The NBC Nightly News anchor, Lester Holt, made history as the first African-American to solo anchor a regular weekday evening newscast. It was a great opportunity for Holt to work in the broadcast industry for over 40 years.
Additionally, to work as the sole anchor in the number one newscast in the country was the icing on the cake. Being an accomplished journalist of color is not an easy road. Read this to know Lester Holt's net worth & Salary. Meet his wife Carol Hagen and his family.
Career.
Holt could not finish his major in government at the California State University, Sacramento, but landed a job as a disk jockey. Holt worked in a local radio station throughout his college days and got a full-time job when he decided to report the news for the station. It was his starting point. The award-winning reporter started small then worked as an anchor, reporter, and international correspondents for the different prominent networks in the broadcast industry.
Before being the main anchor for the NBC Nightly News, Lester Holt spent his career with CBS-owned and operated stations for 19 years.
He was part of the WCBS-TV, KNXT, and WBBM-TV as a report and a weekend anchor. For 14 years, he worked as the anchor of WBBM-TV Evening News in Chicago. His career as an anchor and reporter did not revolve around working on his desk.
The award-winning anchor covered the world's most significant events and reported from problematic locations worldwide like Somalia, Haiti, and Iraq. The reporter covered breaking stories like the Egyptian Revolution and the war in Afghanistan.
Reporting onsite for natural disasters like tsunamis, nuclear incidents in Japan, an oil leak in Gulf Mexico, and Hurricane Katrina and Rita was also part of Holt's significant accomplishments for the broadcast industry.
Awards and Nomination.
With his notable contribution and commitment to informing the nation with important news, Holt received various awards during his career. His report "No Place like home" during the CBS news program Weekend Today gained him the Robert F. Kennedy Journalism Award.
In 2009 and 2014, Holt received the News & Documentary Emmy Award for Outstanding Live Coverage of a Current News Story. He received the Daytime Emmy Award for Outstanding Morning Program for his part in "Today" in NBC network and News and Documentary Emmy Award for Outstanding Edited Interview. 
Lester Holt Wife.
Lester Holt is not only an iconic journalist. He is also a father of two and a loving husband to his wife, Carol Hagen. During his study at the California State University, Lester met Carol, a flight attendant. While they were still dating, Holt asked Carol to come along when he needed to cover a forest fire in Napa Valley.
From then on, Carol realized what she is getting into with Holt and his career. In 1981, Carol's career in the airline industry ended. She decided to follow Lester in New York, where he was working as a reporter at WCBS-TV. The two decided to marry in 1982. They welcomed their two kids after a couple of years.
Married life with a dedicated journalist was not easy. But Carol and Lester managed to make their marriage work with trust, understanding, and a good laugh. For Holt, marriage is not easy. Problems will always arise, and having an understanding partner will always make things light and easy.
Before the couple tied the knot, Lester Holt's spouse Carol knew what she is getting into. She understands that when a big story is there, his husband needs to be there. There are a lot of late-night calls from work and unexpected stories to cover. Yet, Lester is thankful that he has the most understanding wife.
Lester Holt Wife Carol Hagen Bio.
Sixty-four-year-old Carol Hagen is a licensed real estate agent and entrepreneur based in New York. Hagen is also a media personality known as the wife of the award-winning journalist Lester Holt. Although her husband earns a lot as a known journalist, Hagen makes a fortune in her career as a real estate agent.
The licensed real estate agent loves modern design and architecture and often writes real estate issues on her Twitter page. Because of her husband's work, Carol and Lester often moved to different places depending on where her husband was assigned to report.
Lester and his better half, Carol Hagen, also love travelling, and Carol usually posts their travel photos on her Twitter account. However, there are times that their trip is cut short because of breaking news that Lester needs to cover. Working closely within the hospitality and real estate industry made Carol a good listener and understanding.
Salary.
Aside from being the most trusted television news personality in America, Holt also did some cameo appearances in multiple films and tv shows like the sequel of The Fugitive and U.S. marshals in 1993 and 1998, episodes of Law & Order: Special Victims Unit, Warehouse 13 and many other tv series.
Some of his works also include doing a voice-over for an announcement scene in the Sandwich Day show and hosting the 2008 Sci-fi Channel documentary. With all the achievements, awards, and works of Lester Holt, the journalist earns $10 million per year.
Net Worth.
With 4 decades of experience in the broadcast industry, Holt gained lots of assets and salary increases, leaving him with a $35 Million net worth as of 2023, according to The Sun.
Age & Date of Birth.
Lester Don Holt was born in Marin County, California, on an AirForce base, in 1959. His date of birth is March 8. Holt just turned 64 this year.
Family.
Lester Holt and his wife Carol Hagen resides in their Manhattan apartment. The couple has two sons, Cameron and Stefan, who followed a different career path. Cameron studied at Standford University with a bachelor's degree in Mathematical and Computation Science and Masters's degree in Management Science and Engineering. He is now residing in New York, working as a Financial Analyst for Morgan Stanley.
While Cameron chose a different path, Stefan followed in his father's footsteps as a reporter and Journalist for NBC News. Aside from having two talented sons, Lester and Carol have two grandchildren from Stefan and his wife.
Son Stefan Holt is a News Anchor.
WMAQ-TV anchor Stefan Holt, born on January 26, 1987, is the son of the iconic journalist Lester Holt. Stefan began his career as a reporter and anchor in a different prominent broadcast network following his father's footsteps.
Stefan spent his internship at KABC-TV Los Angeles and NBC News in London while studying Bachelor of Arts in Political Science at Pepperdine University in Malibu, California, and graduated cum laude in the same University with a bachelors degree in Broadcast Telecommunication.
The talented young journalist gained the seat for the weekday news anchor for the late afternoon newscast after eight months of working as an anchor and reporter for NBC's Chicago TV station, WMAQ.
In 2016, WNBC-TV in New York named Stefan as the news anchor for the afternoon newscast and later become the news anchor of the 11 pm news after a year. Gaining a spot in the broadcast industry with his talent and intellect is an outstanding achievement for Stefan Holt.
It was not easy being the son of a notable journalist, but Stefan made his way to the top with his effort. The award-winning journalist gained several Emmy Awards like the Edward R. Murrow Award for covering the 2019 police standoff in Jersey City.
After years of working for WNBC-TV in New York, Holt returned to his hometown to become the weeknight anchor of NBC News.
Lester has 3 Grandchildren.
Stefan Holt is a father of two with his wife, Morgan Holt, and the couple is expecting their third baby. Stefan and Morgan met during their early twenties, while both of them were university students at Pepperdine University. The two decided to tie the knot in July 2012 and welcomed their firstborn in 2017.
The success of Stefan's professional career as an accomplished journalist leaves him a net worth of approximately $12 million. Stefan and his wife bought a beautiful apartment in Lakeview East for $ 520,000. Recently, they sold their 18,000-square-foot apartment for $540000.
Parents.
The NBC Anchor was born in Marin Country but raised in Sacramento, California, alongside his three siblings, him being the youngest. Holt's father, Lester Don Holt, Sr., is an African American born in Michigan. While his mother, June DeRozario, was born in Jamaica that grew up in Harlem, New York. There is only limited information available regarding Holt's family background.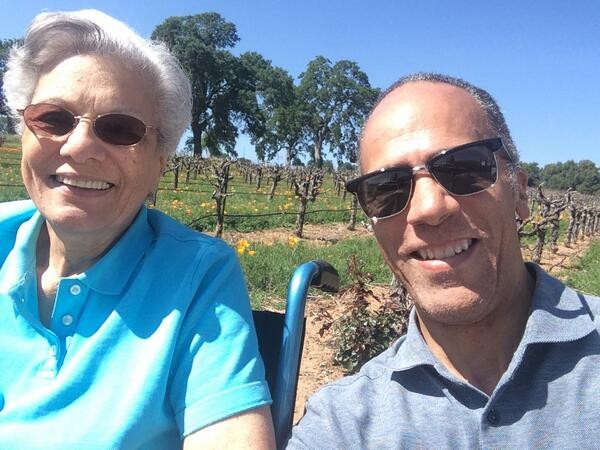 Is Lester Holt Sick? Health Update.
When the pandemic hit the country, Lester Holt reported from his basements. Although there are some speculations that Holt is sick, the anchor is now back providing information to the citizens in the NBC Evening news.
Last April, NBC News assigned Holt as the new managing editor of the NBC Nightly News. At the age of 64, the outstanding anchor is still serving the nation with his on-the-ground reporting.
Height and Measurement.
Lester Holt stands 6 feet 1 inch tall and weighs approximately 168 pounds.
Nationality and Ethnicity.
As America becomes diverse, the multiracial population is growing. Holt came from a multiracial ethnic background. The African American journalist was born in California and has Jamaican roots. His maternal grandmother was Jamaican, while his maternal grandfather was an Indo Jamaican, raised in England.
Political Party.
Being in the media industry includes involving in countless controversies, and Holt is not an exemption. In the 2016 presidential debate, people accused Holt of favoring Hillary Clinton over Donald Trump while moderating the debate.
Trump and some observers accused him of asking Clinton soft questions while throwing more loaded questions to Trump.
Many assumed that Holt was a Democrat because of his moderation on the said presidential debate. But Holt was a Republican during the debate and changed his political party to Independent days after the controversy.