Dan Abrams is an American media mogul, T.V. presenter, author, and commentator. With over two decades of experience on primetime network channels like NBC, ABC, and A&E, Abrams now heads his own media empire, Abrams Media Network.
Read this to know journalist Dan Abram's wife Florinka Pesenti. Know his net worth and health updates.
Who is Dan Abrams?
Daniel Abrams was born on May 20, 1966, to Efrat and Floyd Abrams. Floyd Abrams is an eminent constitutional lawyer at Cahill Gordon & Reindel, while Efrat is a homemaker.
Dan was born and raised in Manhattan, NY, and graduated from Riverdale Country School, class of '84. Subsequently, he pursued a B.A. political science degree at Duke University in Durham, NC, and graduated cum laude in 1988.
Furthermore, Abrams holds a Juris Doctor from Columbia University and an honorary law degree from Stetson University.
Career Beginnings
Dan began working in student-led projects at Duke and landed his first job out of university as a reporter for Court T.V. in 1994. In his three years at the crime-themed T.V. station, Dan most notably covered the O.J. Simpson trial.
Upon leaving Court T.V. in 1997, Dan joined NBC News as a general assignment reporter. Owing to his innate talent and charisma, Abrams landed a T.V. show deal on MSNBC, and thus, The Abrams Report began in 2002.
Dan continued making strides in NBC which ultimately led to a lead managerial position in 2006. Despite thriving in the role, the pull of the camera was too strong, and Dan resigned from his post to host Live with Dan Abrams in late 2007.
Eventually, Dan left NBC in March 2011 and took up a job at ABC News. Immediately upon his arrival, Dan took up shop as their Chief Legal Analyst. Additionally, he was also a fixture on Good Morning America.
Subsequently, Dan was promoted to the post of Chief Legal Affairs Anchor and took up hosting duties on the night-time news show, "Nightline," in June 2013.
Abrams Media Network
To reconcile his burgeoning responsibilities with wanting to start a media company, Dan stepped down as the anchor of Nightline in late 2014 and reverted back to his role as the Chief Legal Analyst.
Furthermore, Abrams was also the host of "Live PD" on A&E from late-2016 to mid-2020. Moreover, he also co-hosted "Grace vs. Abrams," alongside Nancy Grace.
Besides that, Abrams hosts The Dan Abrams Show: Where Politics Meets the Law radio show on SiriusXM radio.
Dan Abrams is the founder and CEO of Abrams Media Network, a global network of websites covering anything from politics to sports to culture and anything in between. Under its umbrella are websites like Mediaite.com, TheMarySue.com, Law&Crime.com, etc.
As a writer, Abrams contributes to magazines like The New York Times, The Huffington Post, The Wall Street Journal, and USA Today.
Additionally, Abrams is also an accomplished writer. Among his half dozen books, several have gone on to become New York Times bestsellers, including Lincoln's Last Trial, Theodore Roosevelt for the Defense, and John Adams Under Fire.
Dan Abrams Wife: Not Married Yet. Dating Girlfriend Florinka Pesenti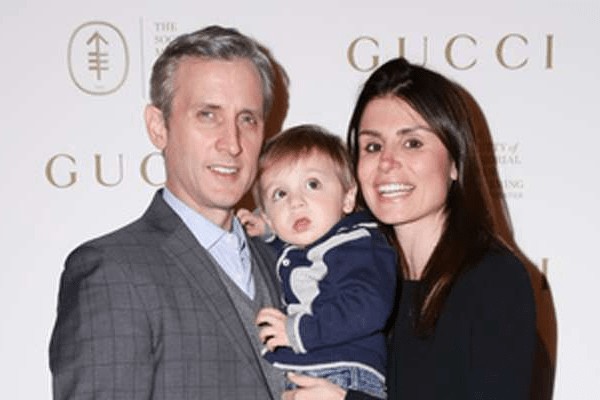 Dan Abrams is not married, nor has he ever been married in his life. He is, however, in a relationship with his wife-to-be, Florinka Pesenti.
They had initially met in 2009 while filming the third season of the reality show The Amazing Race. Dan and Flo hit it off right away and began dating. Subsequently, they had a child, son Everett Floyd Abrams, born in June 2012. They welcomed their second child, daughter Emilia, on February 18, 2021.
In January 2021, Dan expressed interest in dabbling in wine-making. A month prior, he purchased a vineyard in North Fork, Long Island, New York, with the intention of remodeling, refurbishing, and turning it into a luxury winery and lifestyle brand.
The property is near his home in Peconic Bay and was initially called Laurel Lake Vineyards. Dan put out a statement saying that the renovated vineyard will be named Ev&Em Vineyards after his two children.
In the statement, Dan said that he wanted to showcase the best that Long Island had to offer. Furthermore, he also expressed his sentiment on why he named it Ev&Em, saying he named it so that his kids would feel "a little more incentivized to take care of, and pride in, the wines that bear their names."
Dan and Florinka are coming up on their 12th year together. Despite this, they have not yet tied the knot.
About Dan Abram Wife Florinka Pesenti
Florinka Pesenti was born on January 17, 1979, in Milan, Italy, to photo editor Viktor and his wife. She has a brother named Viktor.
When she was five, Flo's family moved to New York, where she reportedly attended Ethical Culture Fieldston School. According to her LinkedIn page, Flo graduated from Vassar College in Poughkeepsie, New York.
Following her graduation, Dan Abrams wife Florinka Pesenti interned at Glamour magazine for over three years, from January 2002 to January 2005. Subsequently, she began working as the Director of Public Relations at the U.S. outlet of the Italian luxury leather brand, Tod's S.p. A.
She spent the next half-decade of her life at the luxury boutique before leaving to join a similar position at Gucci America. She worked at Gucci until early 2016 before departing for another luxury brand, Ralph Lauren.
At Ralph Lauren, Flo was named to the position of the Vice President of Global Communications. She worked as the V.P. for nearly three years before leaving in July 2018.
Since then, Florinka Pesenti has been the Vice President of the venture holding company, MacAndrews & Forbes.
Pesenti is perhaps most known for her appearance in the third installment of the CBS reality T.V. show The Amazing Race. Flo was the overall winner of the third season, alongside Zach Behr. Her historic win marked the first time a female competitor won the coveted prize in the show's history.
Florinka Pesenti Past Relationships
Besides snippets of her early life and career, not much is known about Flo Pesenti's personal life. Nonetheless, according to some reports, Flo was in a relationship with a man named Drew from 2002 to 2009.
On the other hand, Dan Abrams' life is like an open book, thanks to his illustrious career. He was once engaged to the German actress Elisabeth Röhm, but they broke it off in 2005.
Additionally, Dan also reportedly dated the English actress Jamie Murray, of Dexter fame, from 2007 to 2008. From 2008 to 2009, Dan reportedly dated the Australian model Elle MacPherson. Finally, Dan dated Bridget Jones's Diary actress Renee Zellweger in 2009.
Dan Abrams Net worth
According to CelebrityNetWorth.com, Dan Abrams has a net worth of $25 million.
Dan heads Abrams Media Network, a global network of websites with millions of unique viewers per month. Furthermore, Abrams has over two decades' worth of experience as a journalist, T.V. host, and legal commentator. His portfolio boasts stints in major-league T.V. networks like ABC, NBC, and A&E, as well as radio channels like SiriusXM.
In addition to that, Dan is a bestselling author of nearly half a dozen books. Three of his books made it into the New York Times bestsellers list. The book has to sell hundreds of thousands of copies to reach bestseller status, which his books have indeed done.
Furthermore, Dan is dipping his toes into the winery business with his Ev&Em Vineyards, which has been described as "Napa meets the Hamptons."
On the other hand, Dan's wife-to-be, Flo Pesenti, has an estimated net worth of $1.5 million. While she may not be known to the broader audience as anything but Dan's domestic partner, Pesenti is, nonetheless, a T.V. personality and the V.P. of MacAndrews & Forbes.
Is Dan Abrams Sick with Cancer?
In September 2004, Dan Abrams wrote a piece on NBC News' website. In the candid article, Dan revealed that he was battling testicular cancer.
He kept it a secret for years, save for close family and select friends. However, he felt compelled to tell his story, not for him, but for a fellow journalist, Sean Kimerling. Kimerling was an aspiring newscaster and 37 years old when he was diagnosed with testicular cancer.
According to Dan, both of them were admitted into the same hospital simultaneously with the same diagnosis. But while Dan would recover, Sean ended up losing his life on September 9, 2003.
The ordeal had a profound effect on Dan, who revealed his condition to raise awareness on testicular cancer.
"… Sean told his father that if he survived, he wanted to "give something back" by educating young men about the disease. Well, he can't, and so now, reluctantly, I will, by trying to help promote the foundation that his family has set up to educate young men about testicular cancer."
Furthermore, Dan went on to say that by going public with his condition, he hoped many young men who are most likely to develop testicular cancer would feel incentivized to reveal their own struggles.
Current Health
Dan concluded his NBC News piece by revealing that he was in remission. He said:
"I am lucky. Not only did I survive, but now, it seems, I am cancer free and feeling as good as ever."
Since that time in 2004, Dan seems to be in good health, and if he has cancer, he has not shown it.
Weight Loss
Eagle-eyed fans of Dan noticed a change in his body structure after his cancer remission. This immediately raised concerns and sparked rumors about Dan Abrams's weight loss.
Nonetheless, Dan has not commented about the rumors as of this writing. Furthermore, given how it has been over 17 years, it is unlikely that Dan ever will.
Gay Rumors
No one knows how rumors about Dan Abrams being gay started or how it persists to this day. Perhaps it is because he is still unmarried, despite being 55 years old.
Nevertheless, one thing is for sure: Dan is not, nor has he ever been, gay. He has only ever been in straight relationships with women. Dan is currently engaged to be married to a woman. Furthermore, he also has two biological children.
Personal Information
| | |
| --- | --- |
| Information    | Details    |
| Date of Birth    | May 20, 1966 |
| Place of Birth    | Manhattan, New York, USA |
| Nationality | American |
| Birth Name    | Daniel Abrams |
| Famous Name    | Dan Abrams |
| Age    | 57 years old |
| Height | 5 feet 9 inches (1.75 meters) |
| Parents | Efrat Abrams (mother), Floyd Abrams (father) |
| Profession    | Media Mogul, TV Presenter, Author, Commentator |
| Famous For | The Dan Abrams Show: Where Politics Meets the Law, Live PD, Nightline, NBC News |
| Net Worth | $25 Million |
| Education | Riverdale Country School, Duke University, Columbia Law School |
| Married | No |
| Partner | Florinka Pesenti (? – present), Elisabeth Röhm (? – 2005) |
| Children | 2 |
| Online Presence | Instagram, LinkedIn, Official Site |
| Bibliography | Man Down, Lincoln's Last Trial, Theodore Roosevelt for the Defense, John Adams Under Fire, Kennedy's Avenger |