Erica Michelle Levy is a TV producer from Cleveland, Ohio that caught the spotlight when she married the veteran journalist Geraldo Rivera that is 30 years older than her.
People know Rivera as a journalist, an attorney, a political commentator, an author, and a TV host. But, being in the media industry for almost five decades, people also witnessed how Rivera got married four times.
Then, years after his divorce from his fourth wife, Rivera again married his other wife, Erica Levy. Both Rivera and Levy are in the media industry, but there is more to know about the two lovely couples.
Who is Erica Levy?
Erica Michelle Levy is the daughter of Howard Levy, a former TV producer for NBC Universal. Her only sibling Joshua Levy works as a co-chair for Global Litigation and Compliance Practice Group.
After graduating from the University of Wisconsin with a bachelor's degree in Communication, Levy moved to New York and worked with NBC Universal as a producer.
In 2001, Levy joined CNBC to be one of the producers of the show Rivera Live where she met her husband, Geraldo Rivera. Erica Levy was only 26 years old when she met Rivera. Despite the 30 years gap between the two, they started dating shortly after launching the show.
Age
Erica Levy is 48 years old, born on January 30, 1975, in Cleveland, Ohio. On the other hand, her husband is 80 years old, born on July 4. 1943. However, Levy and Rivera's 20 years of marriage proved to everyone that age does not matter.
Marriage Life with Geraldo Rivera
After two years of dating, Rivera and Levy tied the knot in August 2003 with a Jewish ceremony held at Central Synagogue on the east side of midtown Manhattan. Before they got married, Levy was no longer working with CNBC. Levy got a new job as a producer of a documentary.
Rivera is still active in his career and Levy is currently the producer of his husband's show, Voyager: from Roots to the Rainforest.
In one of the interviews with Rivera, the journalist proudly said their marriage is going strong, and Levy is "the one". During their 16th wedding anniversary, Rivera even posted a picture of them proudly saying that those pundits who said their relationship would only last for 16 days are entirely wrong.
Children
Before their second wedding anniversary, Rivera and Levy welcomed their first daughter. Solita Liliana Rivera was born on August 2, 2005. Solita is Rivera's first child to Levy, but the veteran journalist has four more children with his previous wives.
In one of Rivera's posts on his Instagram account, he showed a picture of 13 years old Solita while speaking in front of a camera with a green screen background. The proud father even joked that he is ready for retirement and pass the throne to his talented daughter.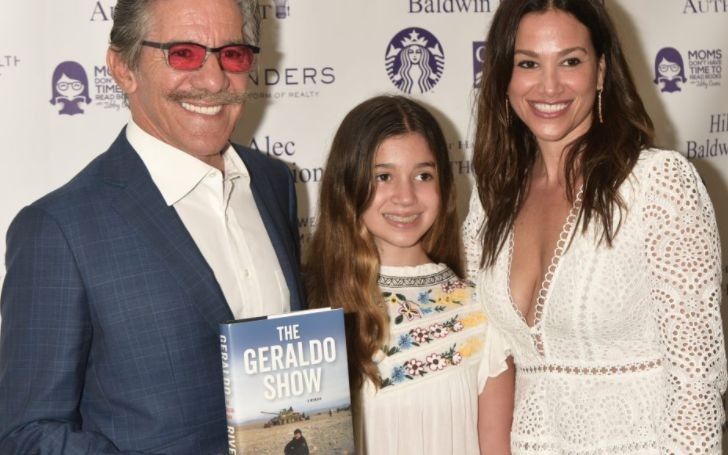 Net Worth and Salary
Being a producer in various shows and documentaries, Levy earns an average salary of $500,000 to $800,000 every year. With her salary and assets, Erica Levy's net worth is $1-5 million as of 2023, according to buzzlearn.com.
Properties
With $2.8 million, Rivera and Levy were able to buy a gorgeous house in Levy's hometown, Shaker Heights, Ohio. The property is a 12, 700 square feet mansion built in the late 1960s. It is a six-bedroom house with six full baths and two half baths with a 3-stool walk-in wet bar, swimming pool, and a French door-style glass slider.
They sold their four-bedroom house in Edgewater, New Jersey, for $6.1 million before moving to Ohio.