Born in the Philippines, Elita Loresca is an American news reporter. Hence, Loresca is a Filipino by origin. Elita currently works for KTRK-TV which is owned and operated by the American Broadcasting Company.
Born on June 28, 1977, Elita Loresca is the wife of Ryan Nuveman. This beautiful pair wedded on September 4, 2010.
Loresca has previously worked for various television channels such as KGET-TV in California, WSVN 7, Miami, and KNBC in LA, California.
More details to follow in the article below about the couple's personal life.
Who is Elita Loresca Husband Ryan Nuveman?
Elita Loresca's husband might not have often made it to the headlines, but he is the brother of a famous sportsperson, Stacey Nuveman. Ryan's sister, Stacey, is a US Softball Olympic gold medalist.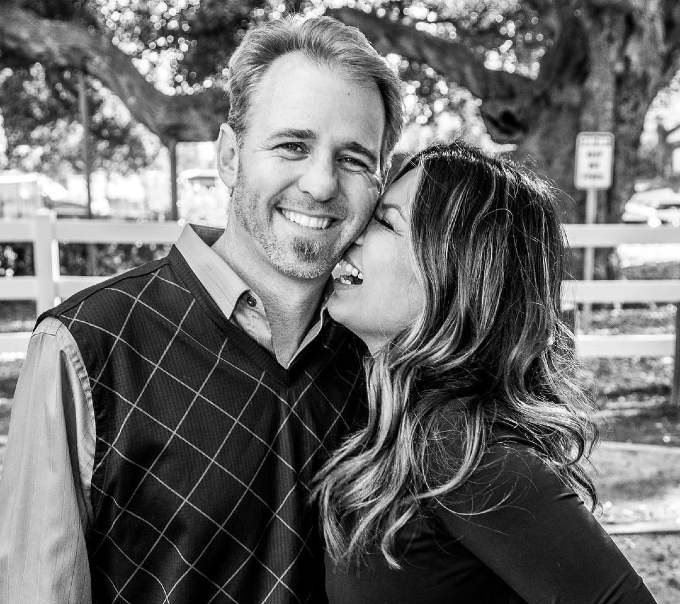 Stacey "Nuvey" Nuveman Deniz, aka Stacey Nuveman, was born on April 26, 1978. She is a right-handed softball hitter. Moreover, during her prime, she won three Olympic medals.
Stacey is currently coaching the San Diego State as the co-head coach.
Very few are mentioned about their family in the sources. However, Stacey and Ryan Nuveman share a good siblings' bond.
Elita Loresca Net Worth
As of 2023, Elita Loresca's net worth is estimated to be $5 million. She has been able to earn this whooping sum by her journalism career only. Sources reveal that this gorgeous newscaster earns about $100,000 annually.
Elita Loresca Early Life and Education
Born in the Philippines, her parents moved to the US when she was only 1o month old. She grew up in Los Angeles and Chino.
She did her schooling in Chino High School.
Loresca completed her Broadcast Journalism degree from California State University, Fullerton. Mississippi State University has even provided Loresca with a Certificate of Broadcast Meteorology.
Work and Career
Shortly after completing her education, the freshly graduate with lots of enthusiasm started her TV journalism career in 2000 as a news associate. She had this role in the television network in KCBS-TV.
Loresca began her journalism career through KCBS-TV in Los Angeles, California as a news associate. There she worked to assemble scripts and teleprompt operations during the newscast.
She worked as the afternoon weather forecaster from January 2001 to August 2002 in KGET-TV in Bakersfield, California. She was also the assignment editor there. Loresca later moved on to KGPE-TV in Fresno. There she worked as the morning and afternoon weather reporter.
Loresca's work also includes the covering of two destructive hurricanes. On the first day of her work in WSVN Miami, she forecasted the 2004 hurricane along with Hurricane Frances. In 2005, she provided reports to the National Hurricane Center about Hurricane Katrina, Hurricane Rita, and Hurricane Wilma.
This good-looking newscaster also won the title of "America's Sexiest Newscaster". The voting was conducted online by the readers of FHM magazine. This bold newscaster was able to grab the cover of FHM magazine in October 2006.
Children
Loresca gave birth to their first child, a son, in September 2011. They call him Ryan Jr. Likewise, the couple also shares a daughter. Her name is Emery. However, the date of birth of her daughter is unknown.
Emery is younger than Rayn Jr.
Moreover, this beautiful mother of two, Loresca, has a huge love for her family. She loves her work as well, but she gives equal priority to her family as well. Her love for their children is immense.
Similarly, the couple is seen attending their children's game of soccer in their school. Even if she cannot make it to the game sometimes because of her work, she talks with her children on the video to boost up their confidence.
She shares their family moments and pictures on her Instagram.
Elita Loresca Measurements and Age
The 46-year-old newscaster stands at a height of 1.67 m. Loresca has an approximate weight of 54 kg.
You can know more about her on Instagram, Twitter, and Facebook.