Charissa Thompson is a sports anchor and journalist. Through her remarkable success, she has made a name for herself in the sports and journalism industry equally. She was born on May 4, 1982, in Seattle, United States. Read this to know Charissa Thompson Net Worth.
Throughout her career, she has worked in all forms of sports journalism. Charissa has published her work in papers and broadcasted on radio and Television. The journalist excelled in every venture she made.
Charissa is an American citizen of Caucasian ethnicity. Her Zodiac sign is Taurus. In her early days, she lived in Washington, United States, with her family.
Furthermore, Charissa has two siblings. She is the youngest of her parents Scott and Kathy Thompson. This article provides insights into Charissa Thompson's Husband Kyle Thousand.
Who is Charissa Thompson?
Charissa has been many things in her career. She is a TV anchor, a sports reporter, and a host for some of the popular podcasts of her time. Furthermore, she is also passionate about interior decorations and is a sports analyst.
Her early life did not involve many sports except for the fact that her brother Tyson played Baseball. She attended Inglemoor High School in Washington. After completing high school, she wasn't sure what to do with her life.
Eventually, she signed up for a diploma course in California at a Community college. Afterwards, she attended the University of California. There, she completed her Bachelors in Law and Society.
Charissa had to work hard for her success. After her graduation, she took up petty jobs. Her time as a Bartender and waitress in a small restaurant taught her humility. By that time, she also knew she was into Journalism and wanted to make a career.
In 2006, 'Fox Sports' opened up a vacancy for the post of HR. Now that wasn't what Charissa wanted, but she had to take the offer to get started. After working as an HR for one and a half years, they finally promoted her to production assistant. She wanted to progress so badly that she took on-air assignments for free.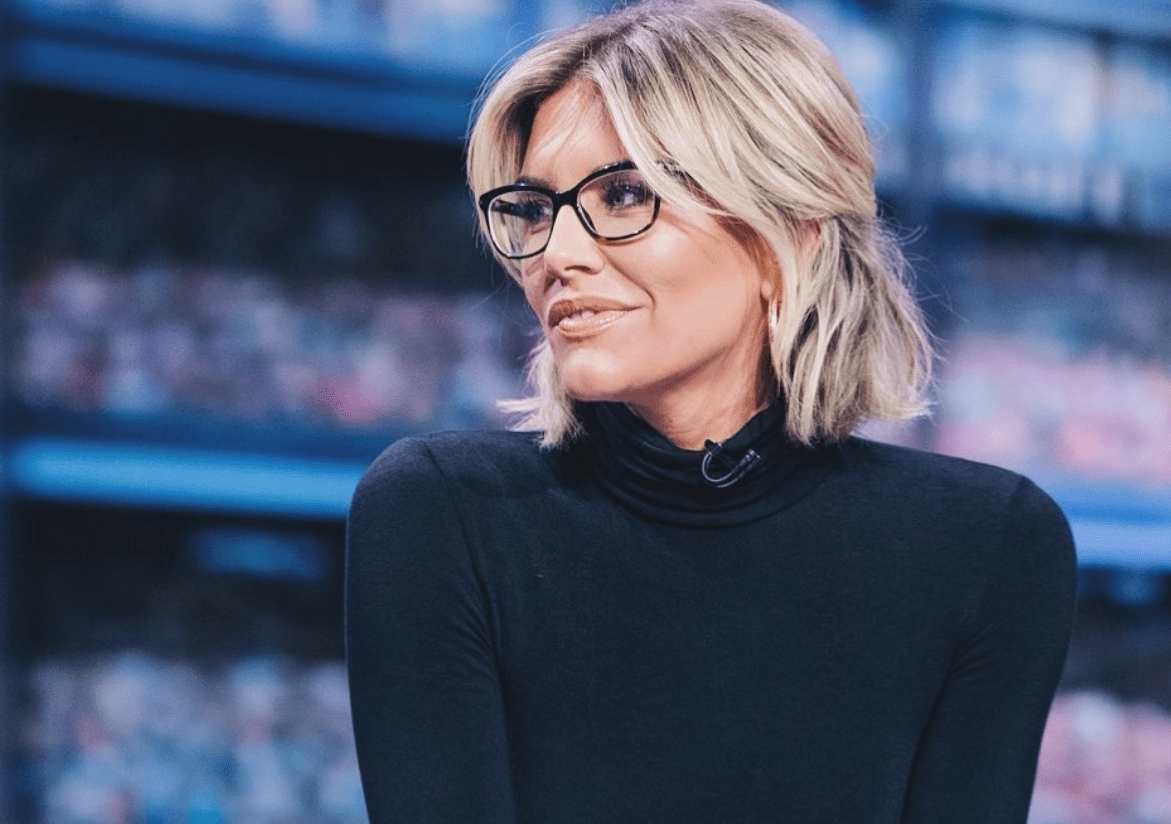 Charissa Thompson is Married to Her Husband, Kyle Thousand
Charissa and Kyle exchanged engagement rings in the first month of 2020. They had an active love life on social media and didn't shy away from sharing pictures before that. On Valentine's day of 2020, Kyle Thousand shared a photo on his Instagram.
According to him, that was the first picture the couple took together. It featured a casual selfie of the two celebs, and Kyle mentioned that he had the approval of Charissa to post the picture. Furthermore, Kyle also stated how he was sure that their baby would be blue-eyed and beautiful.
The couple exchanged wedding vows on December 30, 2020. The marriage took place in Silverleaf Club in Scottsdale. We can find many intimate photographs of the beautiful couple on the internet. Charissa wore a white gown for her special day and looked gorgeous.
On the other hand, Kyle looked equally decent in a black suit and a bow tie. Kyle shared a photograph of their wedding on Instagram on March 17, 2021. In the picture, we can see the bridegroom kiss his bride.
Furthermore, Kyle added how awkward it might be when their kids see the picture. But he also had a fabricated reply to remind their kids of the love between their parents. Needless to say, the couple is very open about discussing their future kids on social media.
Charissa, Prior to Marriage with Kyle Thousand
Prior to her marriage to Kyle, Charissa was married to someone else. The detail of her previous husband is unknown to the public.
Charissa was 25 years old at the time of her first marriage. Furthermore, the journalist also admitted that she loves her ex-husband, and it took quite some time to be friends again.
Charissa realized she was not ready for a long-term commitment, so the couple split pretty soon after their marriage. After her divorce, Charissa had no intention of remarrying, but life came to her with a lovely surprise.
She eventually fell for her current husband, Kyle, and the couple got married. Charissa was also in a relationship with Jay Williams in 2004. Jay was a Basketball player, and the couple dated for some months before they split-up.
Kyle Thousand Net Worth, Wiki, Age
Kyle Jason Thousand is a former professional Baseball player and a sports agent. He was born in Sioux City on October 2, 1980.
Currently, Kyle works at Roc Nation sports, where he leads a Baseball Division. He ended his professional baseball career due to a ligament injury in his arm. After that, Kyle pursued a degree in Law.
Kyle spent most of his childhood in Sioux City in Lowa. He attended the local high school. Initially, he got a finance degree from the University of Lowa. While at University, Kyle played a lot of football and Baseball. That's where he learned about his passion for Baseball and pursued it professionally.
Thousand played for the Toronto Blue Jays in the Minor League division before an injury shut off his Baseball career. At the time, he got upset as he couldn't do what he loved. However, he eventually joined Creighton University, where he pursued a degree in Law. Kyle completed his graduation from the same university in 2007.
Kyle Thousand's net worth is $5 million in 2023.
After graduation, Kyle started his career in Law at Katen Muchin Rosenmann as an LLP. Furthermore, he also worked as an attorney for some big names like Chicago Bulls. After some grinding, he found his way into the sports agency industry.
His breakthrough came when Casey Close hired him to the Excel Baseball Division. Kyle worked hard and eventually made his way up the ladder to success. Currently, he lives in New York with his family. Kyle has a membership in the renowned Illinois Bar Association.
Furthermore, he is a certified agent for Baseball players. He currently works with the Major league Baseball players association.
Charissa Thompson Salary, Net Worth
From all her gigs as a journalist/news reporter Charissa Thompson's salary is $600,000 per year. Charissa worked for Fox Sports until 2010 and later rejoined the channel in 2013. That's where she got most of her success. In her time, the journalist hosted the FIFA World Cup in 2010. Furthermore, she also reported the Vancouver Olympic Winter Games.
She is a reputed sports journalist, having left her mark on many occasions in the US as well as internationally. Moreover, in 2013, she also co-hosted the popular game show Splash on the Fox Sports network. Charissa Thompson's net worth is $3 million, according to celebrity net worth.
Height and Measurement.
Charissa flaunts a 36-23-35 body and weighs about 51 kilograms. She is 5'9" tall.
Age.
As of 2023, Charissa is 41 years old.