CBS News Reporter Tony Dokoupil is a household name in the TV industry. He is one of the most talked-about TV personalities of all time across the country.
Read this to know Tony Dokoupil's Ex-Wife, his net worth and salary.
With his great looks and talent, Tony seems to have gained so much attention from his interviews and shows. It is not a surprise anymore that people are so interested in digging into the life behind the camera of this 42-year American star, from his personal life up to how much he's worth.
Get ready with your shovels; we're about to do some digging!
Tony Dokoupil First Wife/Ex-Wife.
We all know Dokoupil is currently married to fellow broadcast journalist, Katy Turn. But what a lot of people don't know is that this is his second marriage. However, the first marriage, shortly, ended with a divorce.
In addition, Dokoupil refused to release any more information about his ex-wife and would just like to privately leave that part of his life.
Still, we know that he has two children from his first wife; one girl (9) and one boy (12).
According to Dokoupil, part of his early morning routine, he checks his phone for any WhatsApp messages from his children, who are now residing in Israel with their mom.
We can only assume that he still has a good co-parenting relationship with his first wife.
Tony Dokoupil Is Now Married to Katy Tur.
Sorry to break it to you, ladies, but Tony has been off from the bachelor's zone already. The duo's profession became a way for the two to meet as they first met each other in the makeup room at MSNBC during a show.
In 2014, they started working together at NBC News and started as friends; shortly after, the two began dating.
On October 27 2017, Dokoupil and Tur finally tied the knot in a beautiful intimate ceremony in Utah. The pair wanted a nondenominational ceremony in the middle of the desert in Utah.
Family and close friends attended the ceremony.  The wedding took place in the middle of a desert.
They deliberately picked a place with no cell service so their family and friends would pay maximum attention to the wedding. Also, to make sure, none of the guests would talk about politics.
Oh, they've had enough of that already! Indeed, the ceremony was all about the lovebirds as there was no fancy set up, no altar, nada.
Just them and the rocks. Smart! In 2019, Katy announced to the public that they were expecting and, on the 28th of April 2019, welcomed an addition to their family – a healthy baby, Theodore "Tedy" Dokoupil. The family now resides in their lavish house in New York.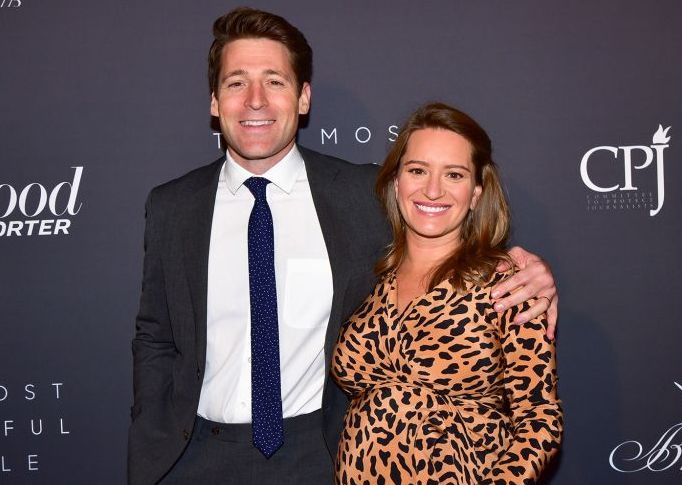 Children.
Dokoupil has brought to this world four beautiful children. Two from his first wife, who he still would like to protect the privacy of.
The two children, one named Tony Jr. and a daughter, are now in Israel with their mother. They are still in constant communication with Dokoupil. The father and children have a good relationship going on.
Hats off to you, Tony! His third son from his wife Katy is now two years old. People get to see them through the social media posts of both parents.
The duo seemed to be fond of posting cute family pictures with funny captions together on their social media accounts.
Katy Tur gave birth to her second daughter, Eloise Judy Bear Dokoupil, on 13 May 2021.
Tony Dokoupil Net Worth and Salary.
With his striving career as a famed TV personality and writer, the hotshot star sure has made a vast fortune from his career. Tony has bagged a handsome net worth for himself.
According to a credible source, Dokoupil may be earning $75 – $176 thousand per year as a professional journalist, on top of his earnings from his latest book, Last Pirate, which comes at 16 dollars per copy according to Amazon.
Dokoupil now has a net worth of over $6 million. He lived a good life ever since a child.
Tony Dokoupil Wikipedia.
After his graduation, he immediately joined Newsweek Magazine as a staff writer in 2004. There, he and his colleagues were nominated for a National Magazine Award for the best standalone department.
After two years, he joined Newsweek and The Daily Beast. There he worked as a Senior Writer covering stories such as The Suicide Epidemic and Dustoff 73, among others.
In 2013, Dokoupil joined NBC News, where he started contributing to videos and features. Joining NBC News turned out to be the big stepping stone that tossed him to even bigger opportunities. People recognize him more and more as a journalist since then.
In 2015, he joined MSNBC as a National Reporter. In that same year, they named him as a network correspondent in October.
Later in 2016, he joined CBS News and started appearing on all CBS News broadcasts and platforms. Currently, he co-hosts CBS This Morning alongside Gayle King and Anthony Mason.
In his career, he has interviewed prominent personalities from different fields. A few of them are First Lady Hillary Clinton, comedy star Steve Martin, and music legend Dolly Parton. He sure hasn't become a famed journalist for anything! Way to go, Dokoupil. Tony Dokoupil's Wikipedia page does not exist.
Family.
Having been born into a wealthy family, Dokoupil has had his life easy mode. But did he really, though? Tony was born in Florida to a businessman father, Anthony Dokoupil and mother, Ann, a public school teacher.
He grew up in a luxurious house and went to high-profile schools. Tony was classmates with the grandkids of President G.H.W Bush.
He is an only child and his parents never married. During his early years, Tony's dad left the family. Tony's father was a big-time drug dealer.
On Father's Day of 2020, Dokoupil posted on his official Instagram account @tonydokoupil an old photo of his infant self with dad with the caption "Happy Father's Day to all the dads out there, even when it's complicated."
Let's leave the fun to the public to guess how his relationship with his dad is going.
But even with the setback of his dad leaving them as a child, Dokoupil still managed to get out good as seen on his flourishing career now.