Lisa Salters was born Alisia on March 6, 1966, in Pennsylvania. She is a journalist whose field of work is mainly focused on various events related to sports. Salters earned her Broadcast Journalism degree in 1988 at the Penn State University. In college, she played the guard position in the basketball team of her university.
Lisa was a celebrated basketball athlete of her team, even if she only stood at 5 feet and 2 inches. Currently, she is the sports correspondent of ESPN. Salters has covered FIFA World Cup and the Olympic Games. She was also the principal correspondent of ABC for the OJ Simpson trial. Today, she provides sideline NBA reports for ABC as well as Monday Night Football reports on ESPN.
Is Lisa Salters Married To Husband?
Lisa Salters is currently unmarried, but she has an adopted son. His name is Samuel Salters. Lisa is a public figure. Yet, she maintains a very private life outside of her profession. There have been no details of any past relationships.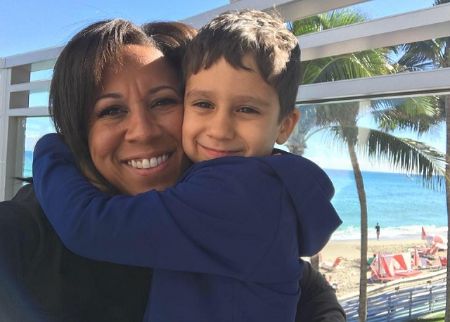 Not a single name comes up when it comes to her love life or dating history. This may be because she was extraordinarily secretive or that she never really had the time to date.
People know Lisa for her dedication to her work. Additionally, she devotes all her time to her profession. Hence, Lisa may have foregone dating to focus on her career.
Although there are no traces of Lisa Salter's spouse/partner, she has been very expressive about her son Samuel. The renowned sports journalist reveals that she had to do a lot of digging in her mind before she finally decided to adopt.
It was not a life-changing decision that she made overnight. Lisa thought it over for a long time before she committed to adopting a child.
The proud mother excitedly chats about her adorable son during interviews. She reveals how excited she was when she first held Samuel in her arms. The very private Lisa may be very secretive about her love life, but she is pretty vocal when it comes to her son. She could not help but go on and on about her son, just like any proud mother.
Age.
Lisa Salters was born in March 6, 1966, and she celebrated her 57th natal day last March. Admittedly, the sports journalist looks very youthful for someone who is already in her mid-50s.
This may be because Lisa has managed to maintain a healthy lifestyle despite her hectic work schedule. She still manages to squeeze in a quick workout every day before starting her busy day at work.
Lisa Salters Salary and Net Worth.
Lisa's journalism career spanning almost three decades has earned her a net worth of $2 million, according to celebrity net worth. Her income comes primarily from her position as a sports correspondent of big networks such as ESPN and ABC.
In addition, she also earns from her various endorsements. All those years of dedication have genuinely paid off for Lisa. She is now reaping the fruits of all those years of hard work.