Known as a commentator, lawyer, and news anchor that previously worked for various big companies, Greta Van Susteren has been active in the industry since 1979. During her long-time career, she worked for Newsmax TV, CNN, Fox News, and MSNBC. Know Greta Van Susteren's net worth here. Also, meet her husband John P. Coale and their kids.
She is known as a former criminal defence and civil trial lawyer. She started shifting her career to on-screen as a legal analyst and defence attorney with Roger Cossack on CNN from 1994 to 2002 for Burden of Proof. Greta is ranked 94th among the 100 most powerful women in the world, issued by Forbes Magazine in 2015.
She is from Appleton, Wisconsin, and graduated from Xavier Highschool in 1972. Greta finished with a degree in geography and economics at the University of Wisconsin-Madison in 1976.
Susteren earned her Juris Doctor Degree in 1979 at Georgetown University Law Center
Greta Van Susteren on CNN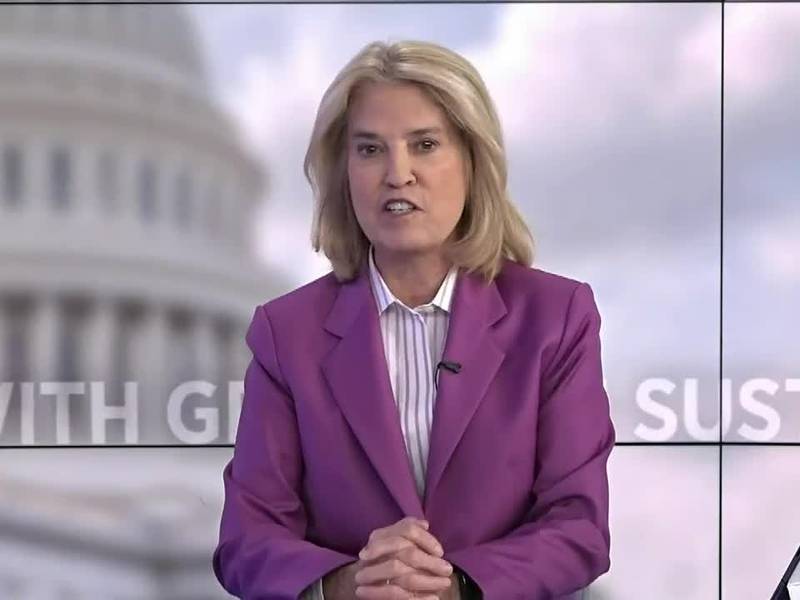 Greta first appeared on CNN for the O.J. Simpson Trial, where she stands as a legal analyst. Then became the host of Burden Proof with Roger Cossack in 1995.
The show successfully ran for 5 years and got cancelled in 2001. In the same year, she had her own show The Point, which ran for a year and was cancelled since Greta decided to join Fox News in 2002.
Net Worth
Susteren was able to accumulate $ 35 million net worth approximately. She gained these massive earnings from her job as a journalist, former lawyer, and television personality.
What happened to Greta Van Susteren?
Greta previously worked for CNN, Fox News, and MSNBC during her journalism stint. After changing from networks to networks, she chose to work now for Newsmax.
She is now hosting The Record with Greta Van Susteren, which leads the nightly lineup of the network. It first premiered last June 14, 2022. Interestingly this show is her third new show with the word Record in the title since she previously hosted On the Record on Fox News and For the Record for MSNBC.
Previously her reason for ending her 14 years of service with Fox News last 2016 is due to her sudden feelings that Fox did not feel like home anymore, so she decided to move her show to Newsmax.
Husband John P. Coale
Greta and John are law partners, and both are members of Scientology. The couple decided to get married in 1988 and are still together up to this date, although they never bore a child.
It is known that Greta is the third wife of, John, and he previously has one child with Kathleen Coale, a Real Estate Agent/ Broker from Benson & Mangold Real Estate. The biological son is now a Deputy State's Attorney named Joseph Coale from Talbot County State's Attorney's Office.
The couple stayed strong and are married for more than 3 decades and are living testimonies that true love can exist in this day and age.
Who is John P. Coale?
Although retired, John still practices law and once worked with former US President Donald Trump in the lawsuits filed against three big tech companies called the First Amendment Violation. John finished his early education at St.Paul's School, Severn School, and graduated with a bachelor of arts degree in politics in 1969 from the University of Maryland.
Popularly acknowledged as a Master of Disaster Bhopal Coale, John P. Coale is a trial attorney who was able to handle diverse cases, from disaster to significant money cases.
He was the one who gave justice to the Bhopal Gas Disaster 1984 Case in 1993 and the Tobacco Settlement Case with 386.5 billion dollars in bail, both of which made him gain fortunes and popularity.
Coale also settled the Dupont Plaza Hotel Fire case in 1986 and the North Carolina Chicken Processing Plant Fire last 1991. Amongst all the cases he successfully presented, the Tobacco Industry's Settlement is the highest-profile case that turned him to be an instant millionaire.
But right after this case, he decided to lay low and eventually retired as an attorney to focus on politics.
John P. Coale Political party
John P. Coale is a well-respected retired lawyer and a Clinton Democrat. He made big contributions to the Democratic Party during the election campaign period in the United States.
John is also known for his endorsement of Sen. John McCain's presidential bid. He suggested creating a leadership PAC for Alaska and an adviser for Herman Cain and Sarah Palin.
Greta Van Susteren Plastic Surgery
Greta is open about possible procedures she underwent with the public. According to her, she underwent an eye lift and facelift; allegedly, she also had botox and filler, but that is not yet confirmed. It was just a spontaneous decision, one night when Greta and her husband randomly talked about getting rid of her eye bags, and three days after that talk, she is already scheduled by a surgeon.