Craig Delano Melvin is a well-renowned anchor and broadcast journalist. He spent his work-life working for NBC News and also at MSNBC. His brilliant story on innovative teaching earned him the Associated Press award in 1996.
This made him one of the youngest people to receive this award. Craig Melvin received the Emmy Award in 2006 for his contributions as a news anchor. He got the best anchor title during 2007 as it was provided to him by the South Carolina Broadcaster's Association.
This article provides insights on the salary, net worth, and family of Craig Melvin.
Craig Melvin's Salary and Net Worth
According to celebrity net worth, Craig Melvin has amassed a fortune amounting to an estimated net worth of around $9 million as of 2023. He earns about three million dollars annually as salary.
Craig Melvin rose to fame due to his successful career in journalism. It all started when he first joined WIS TV in Columbia, South Carolina, when he was still a high school student.
After high school, he first completed college; then, in July 2001, he returned to WIS TV. There, he showed a brilliant performance as a news photographer and producer. Furthermore, the producers included Craig in the morning news team, which earned him massive recognition.
After his live segment, Craig Cam became quite popular. In addition, the producers also promoted Craig to the news anchor position. The anchor hosted several series that covered issues, including education and poverty in Columbia, before he finally left in July 2008.
In the pursuit of a new job, he reached WRC TV, where he worked as an anchor for the weekend evening newscasts. For well over three years, he continuously worked there. But it wasn't feeling just right, so he left WRC TV. Then, he joined MSNBC.
There he worked as a daytime anchor and also worked for NBC News as a reporter in his free time. As a journalist, he covered a long list of events. Moreover, in 2019, for his outstanding records regarding news coverage, he was promoted to weekly news anchor position on Today (American TV Programme).
Craig Melvin's Wife Lindsay Czarniak.
Craig Melvin was married to Lindsay Ann Czarniak at age 34, on October 15, 2011. The couple first met during a commercial break and started dating in 2008. At the time, Craig was working as an anchor, and Lindsay was covering the Beijing Olympics. They exchanged wedding vows at a Church in Washington, DC. The couple dated for three years before finally agreeing to get married.
Lindsay Czarniak is an American sports anchor. She also works as a reporter. Furthermore, she is a reporter for NFL games and a studio host for NASCAR. She was born on November 7, 1977. Her parents are Chet Czarniak and Terri Czarniak. She also has a sibling named Andrew Czarniak, who works as a Military Officer.
Lindsay Czarniak was raised in northern Virginia. Her reporting career started at WAWS TV in Jacksonville, Florida. Then she moved to WTVJ in Miami and started reporting at Fox Sports' Speed Channel.
It was at WRC that she earned herself an Emmy Award. She also got the chance to cover NBC Sports NASCAR coverage. In 2006, she reported the winter games, and in 2008 she reported the summer games in China. There she got to meet Craig Melvin and commenced her relationship.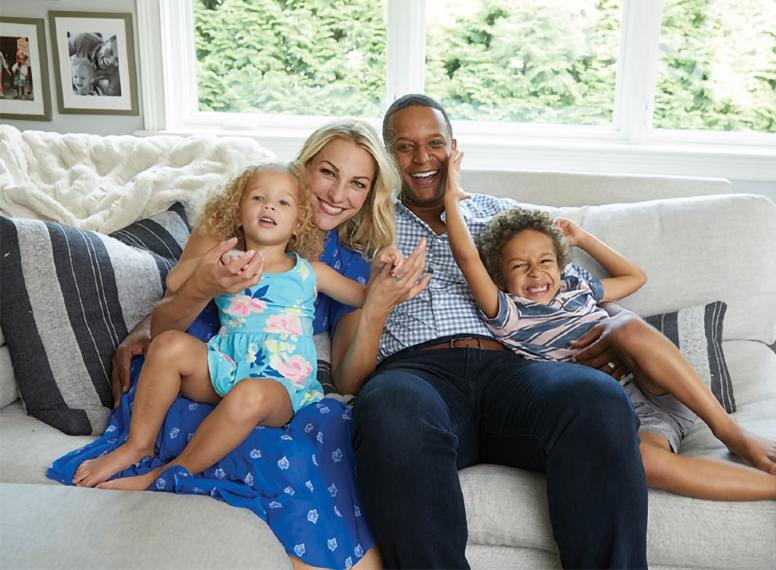 They have two children. Delano Melvin was born in March 2014. And Sybil Ann Melvin, their youngest, was born in 2016. When asked about this married life, he replied that the couple is trying their best.
Craig Melvin's Parents
The anchor is the son of Lawrence Melvin and Betty Melvin.
Craig Melvin's Brothers
Craig Melvin has two brothers, Ryan Melvin and Reverend Lawrence Meadows. Unfortunately, the doctors diagnosed his brother Lawrence with cancer. Lawrence died at the age of 43.
Craig Melvin's Age
Craig Melvin was born in Columbia, the United States, in 1979. He is 44 years old as of 2023. He celebrates his birthday on May 20.
Where does Craig Melvin Live?
Melvin lives in an elegant residence in Connecticut. His abode is said to be very luxurious. He bought this three-story house in 2015. It features a master bedroom, two separate bedrooms, and an office.
His home also features a kitchen filled with high-end appliances, a playroom, and a generous living area with white walls and hardwood flooring. Moreover, there is also a large basement wine cellar and a gym. There additionally exists a private entertainment area with all sorts of gadgets.
Craig Melvin's Height and Measurements
Craig Melvin has an average height of 5 feet and 7 inches, 1.69 in meters. He weighs 185 lbs. (84 kg).